Saryu Soso is an excellent Japanese Puer tea produced on Makinohara upland by Arahataen tea farm. As posted before, this Japanese Puer tea has polyphenolic compounds and polymerized gallic acid due to Aspergillus sp. Some researches imply this polyphenolic compounds synthesized from catechins "Teadenols"[529] have gaining its concerns due to the possibility to prevent metabolic syndrome due to its effects to enhance adiponectin and inhibit PTP1B generation[530,531].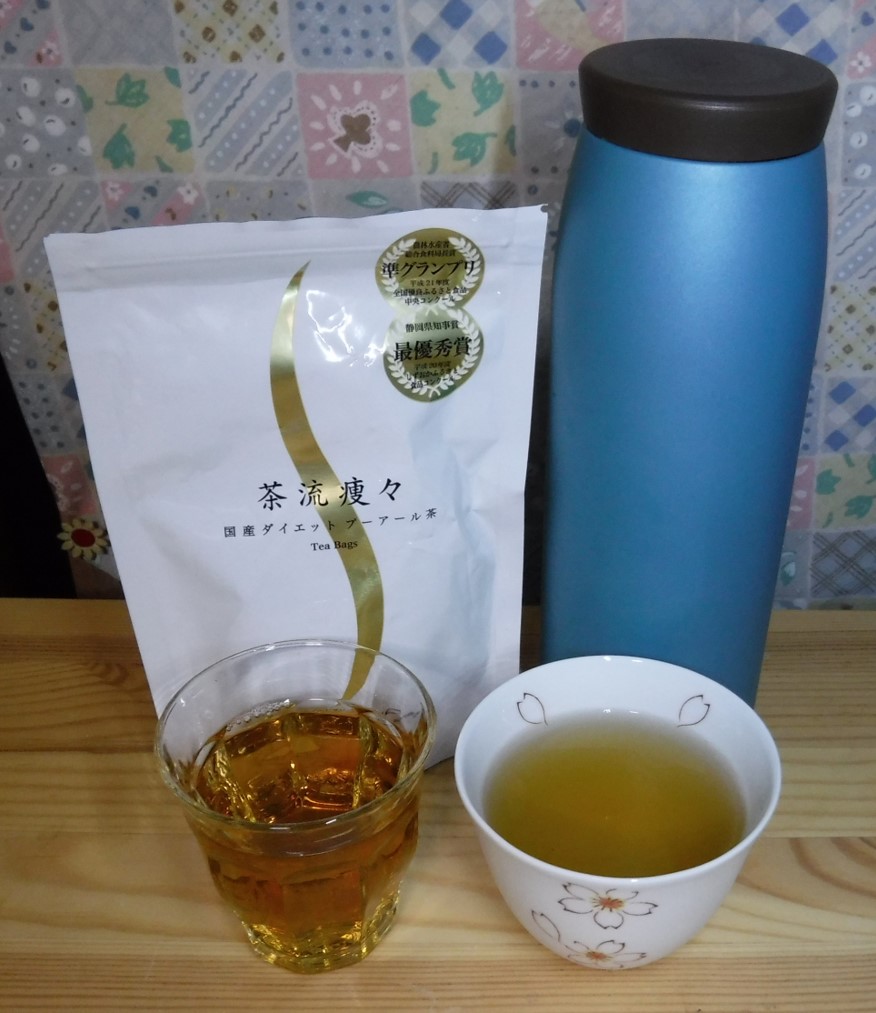 This Japanese Puer tea can be bought on webstore of Japanese Green Tea Co.!! This company has been established lately.
Not only Saryu Soso, Japanese Green Tea Co. lines various Japanese teas of prominent grade such as deep-steamed Sencha green teas, oolong teas and black teas. These excellent teas are produced on Makinohara upland by Arahataen tea farm and cooperated tea farmers.
They practice "Chagusaba method", which is known as "Traditional Tea-Grass Integrated System" certified as Globally Important Agricultural Heritage System (GIAHS) by FAO. Arahataen tea farm put their significance on soil management mainly using organic matters. Arahataen organizes "Daichi no Kai", which literally means "the association of earth" and the association consists the division of tea farming in Arahataen and its cooperated tea farmers on Makinohara upland. In the "Daichi no Kai", they conduct a series of their private conferences and mutual evaluation of loose leaf tea. Arahataen tea farm aims to improve their teas more through the private mutual sophistication practice.
These highly-motivated actions can allows them to produce stably higher grade of ingredient crude tea for Saryu Soso.
According to World Tea News, Japanese Green Tea Co. will exhibit their teas on the booth 244 in World Tea Expo 2018 held from 11th to 14th June in Las Vegas in USA. At the booth, Chagusaba method might be explained.
< References >
[529] Wulandari R.A, Amano M., Yanagita T., Tanaka T., Kouno I., Kawamura D., Ishimaru K. (2011) : New phenolic compounds from Camellia sinensis L. leaves fermented with Aspergillus sp., Journal of Natural Medicines, 65:594-597.
[530] Yanagita T., Ishimaru K., Tanaka T., Koba K., Miyazaki H., Aoki N., Kawamura D. (2013) : Polyphenol derivative and method for producing the same, United States Patent, US 8,558,016 B2.
[531] Ishimaru K., Koga S., Takada M. (2012) : Concentration of Bioactive Compounds, Teadenols A and B, and Catechins in Fermented Teas, Nippon Shokuhin Kagaku Kogaku Kaishi 59:45-48.